Interview with Stefanos Bizas and Alba Nadal
– performing together in A Naked Feeling
by Iben Maria Hammer
Copenhagen Summer Dance 2016. Dansk Danseteater. Naked Feeling. Choreographer: Stefanos Bizas. Photo: Søren Meisner
Stefanos Bizas has been dancing with Danish Dance Theatre for quite a while now, but as we experienced this summer at the highly acclaimed yearly event of Copenhagen Summer Dance, he is also a choreographer – and has been for a while now. The magazine DANS met him and his dance partner in the duet A Naked Feeling, Alba Nadal, for an informal talk about the piece and him being not only a dancer but also a choreographer.
"The piece is about the indecisiveness of two people, like for instance a couple, and it is being danced to Johann Sebastian Bachs 'Sarabande' (Partita No.2 BWV 1004) in an acoustic version played by David Russel and 'Summer No. 2' by Antonio Vivaldi – recomposed in an electronic version by Max Richter," Stefanos explains.
The beauty of silence
The performance begins in silence though, the two dancers forming a beautiful silhouette, only arms moving graciously. "This silent section is very beautiful," Alba comments. "Here we establish the relationship. It is quite sensitive and poetic with the beauty of the silence. It is a sort of a dialogue where each action has a responding reaction."
After some minutes, Bach's music breaks the silence, and we see more "dance", Alba looking beautiful, somehow innocent in her purple semi length skirt and ankle socks. About this choreography, Stefanos explains that "it's not the pedestrian kind of choreography but more like dancing steps." She seems fragile in this second part, as if seeking something. "He carries her on his back, being the earthy one, the rock, where she is more like floating water," Alba says.
Emotional and vulnerable
Stefanos tries to find a balance and thinks that the stillness adds to the richness of the piece. He doesn't like too spectacular moves or jumps. Instead he likes the dancers to be more intertwined, emotional and vulnerable, like in the second part where you get the impression that she needs him.
The music is slow with beautiful acoustic guitar tones, and Stefanos lets me know that the music is very important. He explains that the process is a long forth and back. He listens to the music many times and visualizes pictures and small movements. In A Naked Feeling the artistic process also consisted in improvisation at different levels in collaboration with Alba.
Coming back home
"I get many ideas, but in the studio things changes, then you judge the changes and see what is missing. Once you've created the whole thing, if you then change two things, then you have a narrative," he answers to my question about an abstract piece versus one with some kind of a narrative.
In the piece you see the two dancers holding hands for a long time, getting intertwined. She has some great "awkward" movements, falling backwards and walking again. He lies on the floor and touches her with his foot. She rests her palm on his head. She drifts away. They meet again.
When I refer to the specific repeated movement in the piece where Alba places the palm of her hand on Stefanos head, Alba comments that she thinks it became the connecting thread in the piece, like a symbol of coming back home.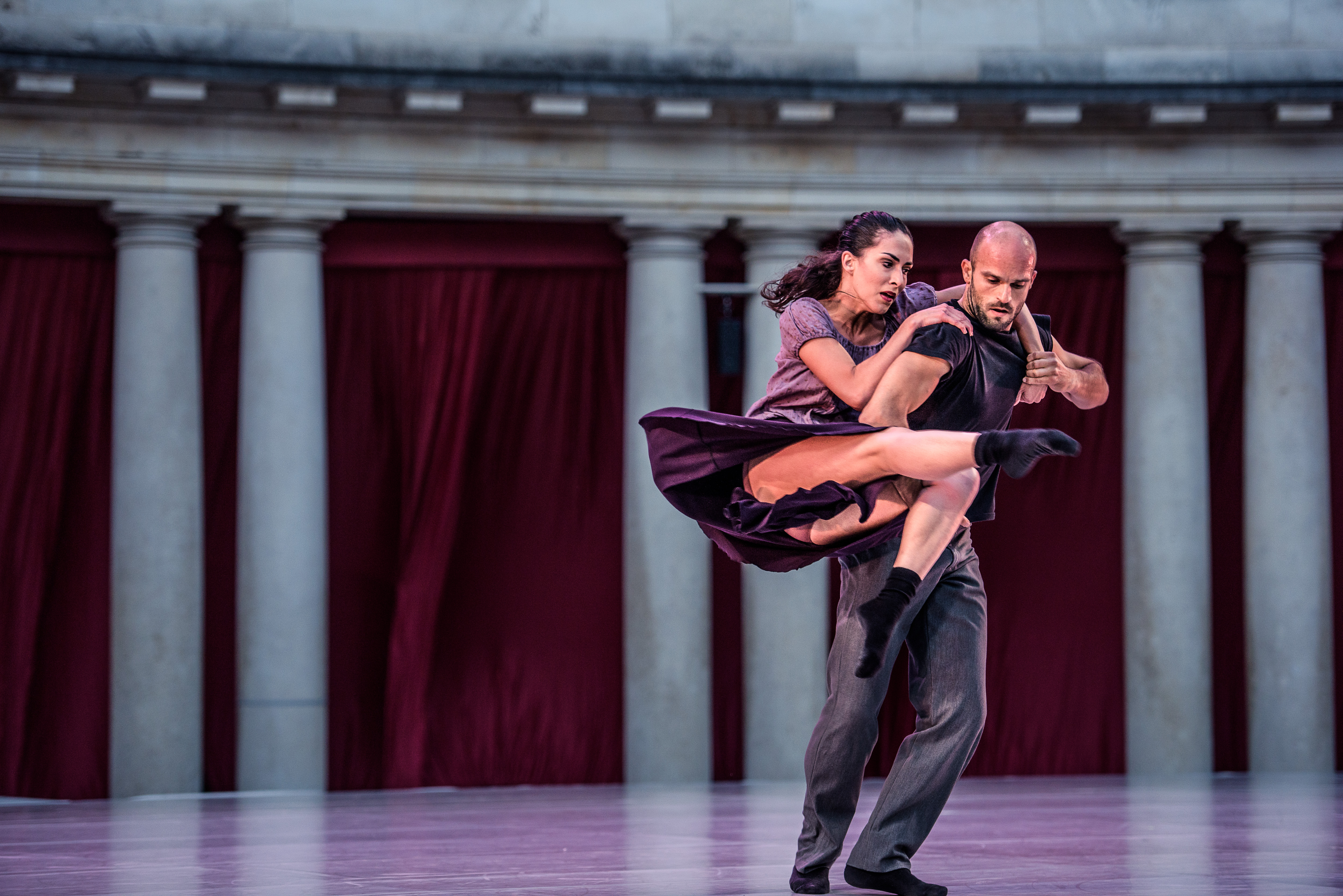 Copenhagen Summer Dance 2016. Dansk Danseteater. Naked Feeling. Choreographer: Stefanos Bizas. Photo: Søren Meisner
Ithaka
"A Naked feeling is not necessarily a love story. It could be about friends, brothers and sisters or a marriage. It is about people connecting and drifting apart and finding each other again. The indecisiveness of two people eliminated by a common goal," explains Stefanos. "Indecisiveness is usually considered as a hindrance, but sometimes it can act as a driving force for a couple. The journey for each one can be more or less different but what matters mostly is Ithaca. Where is Ithaca for each one of them?"
Or put differently, Ithaka is the home that gives you an origin that you grow out of and that greets you as a stranger when you finally return, some say.
Developing the piece
The Bach part already existed as a dance piece, but Stefanos made it more physical and added both the Max Richter part with more of a narrative and the silent part in the beginning. "The piece has been developing over two years, and the Max Richter part perfectly links to the silent part in the beginning," Alba thinks. They are both grateful that Tim Rushton proposed to have A Naked Feeling in Copenhagen Summer Dance 2016 after having seen them rehearsing for the Arc for Dance Festival in Greece.
"It works so well to have a deadline," says Alba Nadal, "otherwise a piece dies. "The new deadline that Tim Rushton came up with, gave us a reason to work on the piece and develop it. Now with the Max Richter electronic version of Vivaldi, it makes a nice contrast to the Bach section."
The whole composition aspect
A Naked feeling is not Stefanos' first piece but his 6th piece. He points out that creating a dance piece is not like creating a movie or a theatre piece, which means that sometimes you have to get rid of the motion to make the composition. "You need to focus on elements like space, musicality, timing, different types of partner matches, and the whole composition aspect," he says. "You need to have focus points. If you have created a lot of movement, you need to leave the eye to rest."
Alba adds that she has "pointy feet" and lines from the classical ballet in which she is trained. This adds to the piece, but it also means that if you created the piece with a different person, you would end up with an entirely different interpretation, because as Stefanos agrees: "You are affected by the material that each dancer produces."
In the near future
Over the past two years, Stefanos has been adding a beginning and an end to the original Bach piece. Still there are possibilities to develop the piece, since it turns out to be very different in a black box with lighting. "It is like a completely different composition then, in comparison with an outdoor performance, because it adds an extra layer to the piece."
In the near future, Stefanos will be working with Stephen Shropshire whom he worked with for four weeks in Wales in 2007. There will also be festivals in Germany. Like for instance a showcase, organized by a former Danish ballet dancer. Here Stefanos can present A Naked Feeling, but he might want to replace himself with another male dancer, because as he says: "It is difficult being both the choreographer and the dancer. It is hard to keep a distance."
FAKTA
Alba Nadal
Spanish. A part from many solo performances at The Royal Danish Ballet, Alba Nadal has also performed in Neo Classic/Modern pieces at The Royal Danish Ballet: Lost on Slow (Jorma Elo), Eidolon (Kim Brandstrup), Air (Jo Stromgren), Maria Magdalena in Requiem (Tim Rushton), Petit Mort (Jiry Kylián), Witness (Alvin Ailey), Uncontaminated by Patrick Delcroix and Anita in West Side Story (J. Robbins).
Stefanos Bizas
Greek. Born 1979. Educated at London Contemporary Dance School at The Place. Danced with The National Dance Company Wales with the choreographers Itzik Galili, Adonis Foniadakis, Stijn Celis, Stephen Petronio, Joanne Fong, Stephen Shropshire, Viivi Keskinen and Juan Carlos Garcia. Stefanos started as a dancer with Danish Dance Theatre in July 2010. He has premiered in: Men in Coats, Love Songs, Fallen from Heaven, Rocking, Rapsody & Monolith.
A Naked Feeling
The Greek dancer Stefanos Bizas from Danish Dance Theatre, was chosen for the recognized Greek Arc for Dance Festival in Athens with his piece A Naked Feeling. The festival took place this spring, where Stefanos was invited to perform it together with his dance partner, Spanish Alba Nadal from The Royal Danish Ballet.
The piece has also been presented at the Copenhagen Summer Dance Festival, as well as at Certamen Ciutat de Barcelona in 2014.
See the choreography here:
A Naked Feeling
Arc for Dance Festival 2016
"Creates a Mosaic of a multicultural program, highlighting the different influences that make choreographers move under the umbrella of a common language, that of contemporary dance"…."The non-profit organization of the festival DAN.C.CE Unitiva is supported from the Dance Centre Dance and the European network for contemporary dance, Aerowaves".
Info: Arc for Dance Festival
Stephen Shropshire
Stephen Shropshire is a graduate of the Julliard School in New York City and holds an MA in arts and heritage from the University of Maastricht.
Info: Stephen Shropshire